---
The former founder of Rawesome Foods — which was raided at gunpoint several years ago by the "food police" of California for daring to offer raw milk to members — has launched a premium, imported organic olive oil line called "Oliflix."
As his website explains, "Flix is a municipality located in the southwest corner of Catalonia, Spain and is home to Oliflix, a uniquely artisan crafted, organic, extra virgin olive oil made from ancient orchards, using old-world techniques. Our oil is extracted exclusively from organically grown olives, free from chemical fertilizers, pesticides or environmental pollutants. This oil boasts a very high polyphenol content without the associated bitter taste."
Available now through the KeyElementals.com website, the Oliflix brand of certified organic, extra virgin olive oil is truly authentic and completely unlike the "watered-down" olive oil products sold at grocery stores. (Hint: Most so-called "olive oil" sold at retail in the USA isn't even close to being 100% olive oil. It's mostly cut with genetically modified canola oil, then fraudulently labeled "olive oil" to be sold at cut-rate prices that can't possible be genuine.)
James Stewart told Natural News that he traveled to Spain earlier this year to inspect the olive oil production facilities there and arrange for product testing and importation into the United States. He covers the full story in his blog post, explaining:
For 12 years, I've wanted to go to Spain and meet Antonio Rey Solé and see his Oliflix olive oil operation. One of the first things we did was rent a car and drive a little over 100 miles, from Barcelona to the small town of Flix, which is located in the province of Tarragona in the southern region of Catalonia, Spain. When we arrived, we saw signs all over town that said Oliflix. I was overjoyed to see this. It was obvious that Oliflix's presence had really impacted the town.
…The olives are picked daily and delivered to the mill where they are cleaned of miscellaneous leaves and stems before weighing. Conveyor belts transport the olive to the granite stone mills where the olives are crushed into paste. The paste is further mixed in a process that releases the oil called malaxing before being spread onto round woven hemp mats and stacked several feet tall. The stacks are maneuvered to giant hydraulic presses that slowly squeeze out the oils and juices which are collected in a trough and pumped to gravity separation tanks.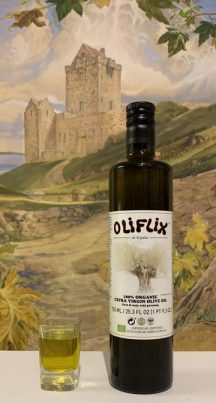 James just received a large, fresh shipment into the United States. He ships from California and offers this gourmet olive oil product in 750 ml bottles and 5 L bottles. Order at KeyElementals.com.
Potent taste with a "bite" that tells me it's authentic olive oil
James sent a bottle to Natural News for review, and I've been enjoying the rich oil ever since. It has a potent "bite" that you only get from authentic olive oil, and it adds an amazing aroma and unforgettable flavor to salads, dressings and sauces. I recently used it as the pan frying oil to make some homemade fajita veggies (with onions, red bell peppers and green bell peppers). It was incredibly delicious, as it added some real character to the overall flavor of the meal. (I like to also use raw purple cabbage in this recipe to add fresh, non-cooked veggies to the fajitas).
A few months ago, I spent several hundred dollars buying every brand of olive oil at the grocery store to run an interesting experiment. I wanted to see if any of them had the strong olive "bite" that's characteristic of genuine olive oil. I bought every brand and then tried a teaspoon of each one. To my astonishment, there wasn't a single store-bought olive oil that actually tasted like olive oil.
Not even the organic brands, it turns out.
In the same way that most store-bought "honey" is just corn syrup, most store-bought "olive oil" is really just corn oil or canola oil. Sad but true.
There are only two sources of olive oil that I use now. One is Oliflix, now that James has imported it from Spain and made it available to North American customers.
The other is a local Texas olive oil that's harvested from olive trees that grow in Central Texas. This oil is very difficult to get, and it's only available seasonally. The shop that sells it is almost never open. It's like trying to find buried treasure at the end of a rainbow or something. If you can get it, it's amazing olive oil, but getting it almost requires a fanatical commitment to sourcing gourmet food.
But Oliflix is readily available, thanks to James Stewart. You can pick up a supply right now at KeyElementals.com.
Note: Natural News is not compensated in any way when you purchase this premium olive oil. We were given a free sample for our review, but otherwise have no financial ties to the Oliflix brand or its sales.
Be warned that authentic, genuine olive oil cost a lot more than cheap, counterfeit olive oil like you buy at the grocery store. You'll pay over $30 for a 750 ml bottle, but the very first time you taste it, it's totally worth it.
Key Elementals ships everywhere in North America. I'm not sure if they ship outside the USA and Canada, but you can check on their website, which also lists a phone number and contact email address.
Here's a recent photo of James Stewart (on the right) — who is now 70 years old! — standing with the Oliflix founder Antonio Rey Solé: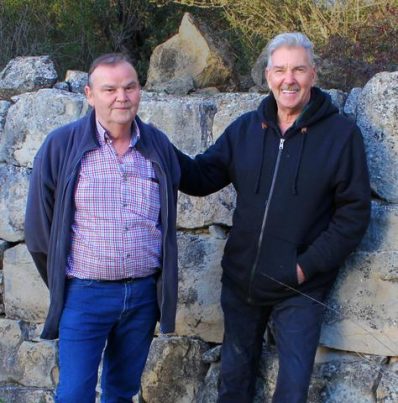 Does James Stewart look 70? Not by a long shot. He's healthy, vibrant and full of energy that would put people to shame at almost any age. He deserves your business, too, so if you're looking for authentic olive oil, give James a visit at KeyElementals.com.